I did a great job of preserving locally grown produce and buying locally raised meat in the past few months.  So guess what we've been eating?
And then I discovered something new … As good as the preserved food and meat are to eat, a salad of fresh vegetables tastes like dessert after eating so much of them!
I may have discovered a new diet trick!
Every once and a while, I sneak off to the grocery store to satisfy my fresh produce craving.  Here is one of my favorite recipes.
Ingredients
1 Napa Cabbage
1 Head of Romaine Lettuce
1/2 cup nuts
1 orange
1/2 cup lime juice
1/2 cup olive oil
salt
First, get out  your biggest bowl.  The cabbage and lettuce take up a lot of room.  If you don't have a big bowl, split the recipe in half.
Chop up the lettuce, cabbage and oranges.  Mix them together in the bowl.  Toast the nuts by putting them on a tray in a 350 degree oven until they are brown and fragrant.  Cool, chop and add to the mix.  (Disclosure:  I used whole hazelnuts in the picture and did not chop them).
Mix olive oil, lime juice and salt to taste in a measuring cup.  I like to add some crushed rosemary, but that's just me.  Mix well and pour it over the salad.
Eat!  And if you've been eating preserved food, try not to eat the whole thing in one sitting.
******
Shared with…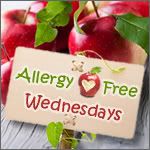 Nourishing Simplicity Blog Hop #13
Copyright 2013 Hungry Chicken Homestead