"What am I going to do with all these apples?", I moaned to a friend.  I had a refrigerator full, from my Grant Farms CSA fruit share PLUS a bushel I had bought from the Arkansas Valley Organic Growers.
I know, I know … it was my own fault.  But local fruit is just so delicious!  I think I can be forgiven for giving in to "eyes bigger than stomach" syndrome.
"What about cooking them with with some of that pork you bought from Easter Egg Acres?", she replied.  She is smart.  She is also one of the best cooks I've ever had visit my house.
She cooked while I watched.
Ingredients:
2 pork chops
3 or 4 apples, cut into wedges
1 onion, sliced
2 or 3 sprigs of dried sage
salt to taste
Put the raw pork chops on the bottom of the crock pot.  Add the apples, onions and salt.  Lay the sage on top and add 1/2 cup of water to keep it all from sticking.  Cover and cook for 4 to 6 hours on high.
Four hours later, we devoured this dish for dinner.
And that ends the story of how the apples were saved from becoming chicken food!
Shared with …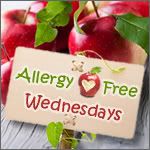 Mexican WildFlower Simple Meal Friday